Upcoming lecture recitals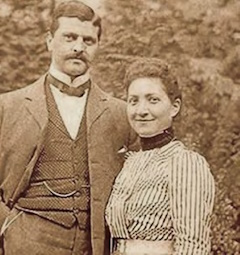 (160)
Thursday, 11. January 2024
, Konzerthaus Berlin, Musikclub, 20 h
Maria Herz (1878-1950) - Composer between Germany and England
Maria Herz, pianist and composer from Cologne, emigrated to England already around 1900 because of strong anti-semitic tendecies in Germany. In England she organised concerts, sometimes also performing her own music. When WWI broke out she happened to be in Cologne. It was meant to be just a visit but because of the war she could not return, and even after the war she stayed in Germany. When her husband died in 1920 she had to struggle to earn a living but nevertheless resumed composing. For some time she studied with Philipp Jarnach. In 1935 she fled to England for the second time.
In our lecture recital her grandson Albert Herz and Heinrich Aerni (Zentralbibliothek Zurich, where Herz's estate is kept) will be our guests.
Music for string quartet
Asasello Quartet (Cologne)
Albrecht Dümling talks with Albert Herz and Heinrich Aerni.
This concert will be supported by Bareva Foundation

---
Following lecture recitals
11. April 2024: "Les portes de la nuit" - the composer
Joseph Kosma
(1905-1969)
---
Entrance fee: 8 Euros, for students 6 Euros
Reservations: Konzerthaus Berlin [
www.konzerthaus.de
]
Tel.: (030) 20309 - 2101