Upcoming lecture recitals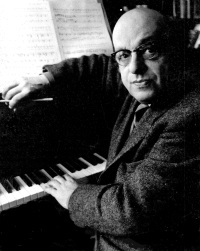 (136)
Thursday, 13. September 2018
Konzerthaus am Gendarmenmarkt Berlin, Musikclub,
20h
Committed to Jewish music. The composer Hans Krieg in Holland
Hans Krieg was born 1899 in Haynau (Silesia, now Poland). He studied in Leipzig and Berlin. In 1928 he moved to Breslau to conduct the choir at the synagogue and different workers' choirs. In 1933 he fled to Amsterdam, but he was arrested in 1943, together with his wife and the two daughters Susanne and Mirjam. They were deported to Westerbork and later to Bergen-Belsen. They were among the few survivors of the "Lost Transport" to Terezín which was liberated by the Red Army after a 13-day-odyssey through Germany. The Kriegs returned to the Netherlands. Hans Krieg made a career as composer, singer, choirmaster and musicologist. He died in Amsterdam 26. November 1961. Mirjam Krieg became a prominent singer. She will talk about her father and their shared experiences.
Songs, piano and chamber music by Hans Krieg
Georg Streuber, baritone
Katja Kuhlesza, violin
Johanne von Harsdorf-Fürstenau, piano
Mirjam Krieg talks with Peter Sarkar
---
Following lecture recitals
(137)
Thursday, 4. October 2018
Konzerthaus am Gendarmenmarkt Berlin, Musikclub
A new start after the "Anschluss"? Vally and Karl Weigl
(138)
Thursday, 10. January 2019
Konzerthaus am Gendarmenmarkt Berlin, Musikclub
Defamed as a forger: The violinist Fritz Kreisler
(139)
Thursday, 21. February 2019
Konzerthaus am Gendarmenmarkt Berlin, Musikclub
Expelled from Frankfurt conservatory: Bernhard Sekles and Mátyás Seiber
(140)
Tuesday, 25. June 2019
Konzerthaus am Gendarmenmarkt Berlin, Musikclub
Stateless, chased, deported. The musicians Pál Hermann and Géza Frid
---
Admission: 8 Euros, for students 6 Euros
Reservation: Konzerthaus Berlin [
www.konzerthaus.de
]
Tel.: (030) 20309 - 2101