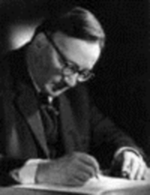 Franz Reizenstein
(1911-1968)
7. Juni 1911: Geboren in Nürnberg als Sohn von Dr. Albert Reizenstein und Lina R. geb. Kohn
1916: Erste Kompositionen
1925: Tod des Vaters
Ostern 1930: Abitur am humanistischen Gymnasium Nürnberg
1930-34: Studium an der Berliner Hochschule für Musik
April 1930 – März 1931: Hauptfach Komposition bei Paul Hindemith
April 1931 – Ende März 1933: Hauptfach Klavier bei Leonid Kreutzer
18. März 1933: Reifeprüfung Klavier
April 1933 – Ende Juli 1934: Wieder Hauptfach Komposition bei Paul Hindemith
1934 Übersiedlung nach England
Bis 1936: Kompositionsunterricht bei Ralph Vaughan Williams am Royal College of Music
1937/38: Südamerika-Tournee mit dem Geiger Roman Totenberg (er hatte bei Carl Flesch in Berlin studiert)
1938-40: Klavierunterricht bei Solomon
1940: als "feindlicher Ausländer" interniert auf der Isle of Man. Entlassen nach Fürsprache von Vaughan Williams.
1942: Heiratet die Musikkritikerin Margaret Lawson. Arbeitet als Bahnangestellter.
1945-47: unterrichtet den jungen David Wilde
1956: "Concerto Popolare" für Gerard Hoffnung. Geburt des Sohnes John.
1958-64: Klavierprofessor an der Royal Academy of Music
Ab 1964: Klavierprofessor in Manchester
1964: erhält Kulturpreis der Stadt Nürnberg
1966: für 6 Monate Gastprofessor für Komposition an der Boston University
1968: 23. Juli: Abschluss seiner Violinsonate op. 46
Am 15. Oktober 1968 überraschend in London verstorben.
Werkliste
1931: Solosonate für Cello Op. 1
1932: Thema, Variationen und Fuge für Klarinette und Streichquartett Op. 2
1933:
Vier Silhouetten
für Klavier Op. 4; Phantasie für Klavier Op. 3
1934: Bläserquintett Op. 5
1936: Three Pieces Op. 7 No.1; Suite for Piano op. 6; Elegy for cello and piano Op. 7 No.2; Divertimento for String Quartet Op. 9; Concerto in G
1938: Three Concert Pieces for Oboe and Piano Op. 10; Sonatina for Oboe and Piano Op. 11; Divertimento for Brass Quartet Op. 9a; Impromptu for Piano Solo Op. 14; Short educational pieces; Prologue, Variations and Finale for Violin and Piano Op. 12 (auch bearbeitet für Violine und Orchester); Partita for Treble Recorder or Flute and Piano Op. 13 (auch bearbeitet für Flöte und Streichtrio); Five Imaginative Pieces; Capriccio for Orchestra
1940: Ballet Suite Op. 15
1941: Intermezzo for Piano Op. 17; Piano Concerto Op. 16; Cantilene for Cello and Piano Op. 18
1944: Sonata No. 1 in B for Piano Op. 19
1945: Sonata in G sharp for Violin and Piano Op. 20
1947: Sonata in A for Cello and Piano Op. 22; Scherzo in A for Piano Op. 21
1948: Variations on "The Lambeth Walk" for Piano; Quintet in D for Piano and Strings Op. 23;
Men against the Sea
[Oper]
1949: Trio in A for Flute, Oboe and Piano (or Harpsichord) Op. 25; Legend for Piano Op. 24
1950: Scherzo Fantastique for Piano Op. 26
1951:
Voices of Night
[Funkoper] Op. 27; Serenade in F Op. 29;
Highlights of Farnborough
;
Cyrano de Bergerac
Op. 28
1952: Pieces for piano solo: "Swing song" , "Cello and violin"; "An echo tune" , "A walking tune" ;
Seguidilla
for piano and orchestra;
Musical Box
for Piano;
Cunning Fox
for solo piano; Concerto in G, for violin and orchestra Op. 31;
Anna Kraus
[Funkoper] Op. 30;
A Jolly Overture
1953:
The Sea
;
The House that Jack built
;
Island of Steel
[Filmmusiken]
1955: Twelve Preludes and Fugues for Piano Op. 32
1956:
Concerto Popolare
(Piano Concerto to end all Piano Concertos); Capriccio for small orchestra; Fantasia Concertante for Violin and Piano Op. 33
1957: Piano Trio [in one movement] Op. 34; Cadenzas for Mozart's Flute Concerto in D, No. 2. [K. 314]
1958:
Let's Fake an Opera
;
Genesis
Op. 35 [Oratorium]
1959:
The White Trap
;
The Mummy
(Die Rache der Pharaonen);
Jessy
[Filmmusiken]; Five Sonnets of E. B. Browning Op. 36; Concerto No. 2 in F Op. 37
1960: Three Pieces for Pianoforte;
Circus of Horrors
; 5 Pieces for Piano
1961: Study in Irregular Rhythms, for piano; 3 Short stories for piano solo
1962: Three Pieces for Piano Solo; Secret Story for piano; Little Fugue in three Parts for piano
1963: Trio for Flute, Clarinet and Bassoon Op. 39; Duo for Oboe and Clarinet Op. 38
1964:
The Zodiac
- Piano Suite Op. 41; Sonata No. 2 in A flat for Piano Op. 40
1965: Concert Fantasy for Viola and Piano Op. 42
1966: Concerto for String Orchestra Op. 43
1967: Sonata for Solo Viola Op. 45
1968: Sonatina for Clarinet and Piano Op. 48; Sonata for Solo Violin Op. 46;
Arabesques
for Clarinet and Piano Op. 47
Website für den Komponisten (englisch):
www.franzreizenstein.com
.
Porträtiert bei
musica reanimata
im 98. Gesprächskonzert am 26. Mai 2011.